Soundsurface - A short Biography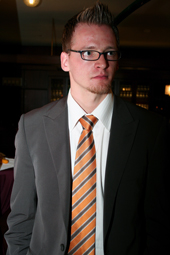 The artist Soundsurface was born as Marcus Theil in the fall of 1982. He always had a distinctive interest in music. Even in his youth he listened to music very mindful. Later, in the mid-1990s the desire to produce his own music came up. 1999 marks his "leap year" as he started to discover the world of novel electronic music. Terms like IDM, Ambient, Electro House, Drum & Bass affected his awareness for music extremely. Releases from artists like Aphex Twin, Autechre, Plaid, Squarepusher, Boards of Canada, GusGus, Underworld or Mouse on Mars washed his brain devilishly. Since then he developed a taste for quirky, creative and non-commercial music.
Today, he does not favor just one specific musical style, but is interested in an enormous spectrum of music. Basically, Soundsurface has a liking for non-commercial music. Normally he does not listen to the radio, only if he has to. For that reason he does not know much about current number one hits. It is likely that constant access to his private music collection with a huge spectrum of musical styles, is an explanation for his spread of creativity in relation to his own productions.
He definitely adores a lot of artists, but never wants to copy their ideas or sounds. In fact, he is always trying to find his own path. If Soundsurface creates a track, he would not waste time to think about what musical style his composition is similar to. He is simply doing it. Other people should label the musical genre(s) for him - if they can. It is only important that he likes the track. The composition should give him a fascinating and worthwhile feeling to work on it.
Soundsurface had his first contact with music software in the late 1990s. Most software tools had no suitable performance according to the desired requirements and that also frustrated him. Pulling prefab, perfect samples in the arranger-window of the software gave him a non-creative and bored feeling. He decided to wait for a better program. It was his primary aim to create his own sounds first with a visible script and secondly to have full control, with no limits at best.
The search for an optimal program was aborted in 2002. A recommendation of a friend helped him to find the appropriate software. Soundsurface worked hard to get a feeling and a good understanding of the various features of the software. During these days he thought that almost everything was possible. For example twiddling knobs of software synthesizers, manipulating sample material or just recording notes via midi keyboard were desired procedures for producing creative music. It was a new and scary feeling at the same time to have so much control over sounds. But this was exactly what Soundsurface was looking for in the past. Naturally, he had a lot of problems to understand the layout of the software - but never gave up. It took him a long time to understand the whole program. Soundsurface had an unbroken will to rule the program. He accomplished it and improved his skills a lot over the years. In the end he was able to control everything. There were no thoughts left about how to handle the software. The result was an uninterrupted process to create music and only the mind was the limit to transfer his own ideas.
Finally the improvements in the manner to produce music empowered Soundsurface to get deeper into sound synthesis. This means in large part that the sounds you hear in his tracks really are his own creations.
Soundsurface is always exerted to produce as much as possible by himself. This starts with the creation of self-made sounds, is transferred with a sophisticated arrangement and ends with the development of a suitable artwork for his next release. Having almost no recognition value is a characteristic trademark for his productions.
In this spirit let yourself be surprised at what Soundsurface will release in the future.